Finding the Perfect Venue for Your Next Business Event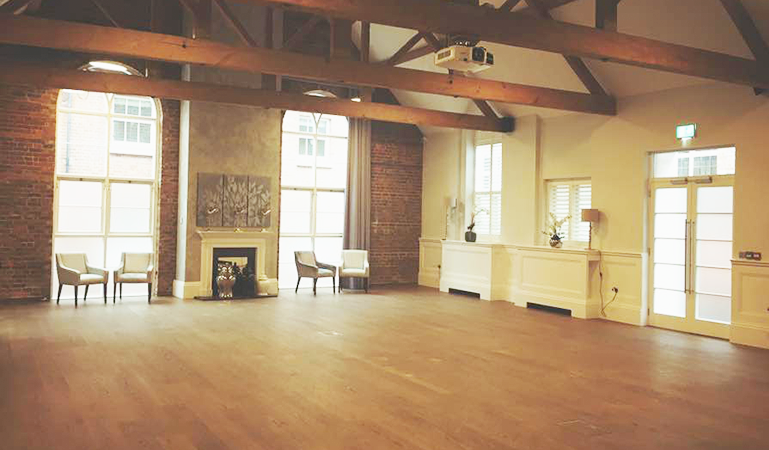 If you're responsible for arranging your corporate events, then you will know the time and effort it takes to find a venue that provides a backdrop that aligns with your event vision and goals.
Making the right venue selection for your event is crucial and can influence so many other aspects of your event planning process.
If you're not sure where to start and need a steer in the right direction, then check out this guide to finding the perfect venue for your next business event.
Identify The Must Haves
Before you start looking at venue options for your event, it is important that you know what you want from a venue in order for your event to be a success. A great starting point in doing this is to create a venue event brief. Within this document you can establish: the ideal locations, preferred dates of your event, timings, budget, expected delegate numbers, AV and production needs, catering requirements, and a specification of the kind of venue that will suit your event.

By producing a venue event brief you can clearly define what's essential and what are the nice to haves. Having a detailed brief will also reduce the need for you to repeat yourself when approaching multiple venues.

Swot Up
When time is short and your to-do list long, researching venue options may seem like an unnecessary task, but it is vital when it comes to selecting the right venue. A well picked venue that creates interest and excitement, as well as providing a functional space can sometimes be the difference between an event prevailing or failing.

Top tips to consider when starting to research venue options:


Before engaging with venues look at their websites to try and understand what will be included as part of their offering. Event packages offered by venues will often differ greatly, so ascertaining from the outset what you'll be getting for your money is important. Of course, if you are a keen on a venue and want more information than is publicly available, then detailed answers to more specific questions can be included in the venue's proposal later on in the process.


Where are your delegates travelling in from? Do the venues you are looking at have good transport links? Is there ample parking or are there park and ride options available?



Will attendees need accommodation? If so, will the venues you're looking at offer this and can they supply the number of rooms needed? Yes – great, but if not, are there hotels in close proximity that are available to book?



What is the purpose of your event? Exhibition, conference, summit, networking or training session…


…Undoubtedly the nature of your event will heavily influence the type of venue space that you'll require. If you're planning and organising an exhibition for over a thousand delegates, then the venue space will have to be selected on the basis of being able to facilitate the exhibition and its ability to achieve the overall event goals. Similarly, if you are planning a training session for 30 attendees, then the venues considered will need to be fit for purpose; to help optimise participant experience. Utilise your time wisely and limit your research to the venues that are most likely to meet the criteria associated with your event purpose.
It's advisable to research a few venue options and enquire with the ones that seem the most viable. From these enquiries look to receive at least two proposals in response to your brief. This will allow you to assess what you can get for your budget and gives you a stronger position to negotiate from.
Site Inspection
Once you have created your venue shortlist, it's sensible that you get out there and view them for yourself. Although this can be time consuming and take you away from other important work, it's vital to see first-hand the venues that you are considering for your event. Why? Beautiful images on venue galleries can give you a sense of confidence when assessing a venue online, but in some cases, the pictures can be misleading. Conversely, venues that haven't quite taken the best shots of their venue can impress in reality and completely change your opinion on its scope.
A site-visit can also help give you an inclination as to the quality of service you will receive from the venue team should you opt to use their space. Trust your instinct and factor this in when comparing venues and making your final venue choice.
All in the Detail
Once you've selected a venue make sure that you go through the T&Cs with a fine-tooth comb. Again, spending the time to do this can help avoid any unexpected costs or tricky situations occurring. Make sure you are comfortable with all aspects of the contract before you sign.
Finding a venue for your event can be a time-consuming undertaking, especially if you are dedicated to doing it well. If this prospect fills you with dread, then the solution that you may be looking for is that of a professional venue finding service.
Specialists in venues, a venue finder will simply take your event venue brief and manage all facets of your search from beginning to end. Using their expert knowledge on venues and their network of contacts, venue finders can match venues with your specifications and budget, to obtain the right information and make tailored recommendations. The service doesn't end there either: venue finding professionals should try to negotiate better rates on your behalf and can use their bargaining power to help secure lower prices than you may be offered directly. What's more you can also trust your venue finder to support with the contractual elements of the booking, reducing your workload considerably.
The Answer is Clear:
Clearcut Venues are venue finding experts with a reputation for connecting our clients with the perfect venues for their events. We understand the importance of finding a venue that creates a setting for memorable, long-lasting experiences. We help our customers to source a venue that exceeds their expectations at a cost that suits them. Tell us about your upcoming event and see how our venue finding solution can benefit you.
Call: 07792 125 144 or email

[email protected]