Your Guide to Planning Your Corporate Christmas Event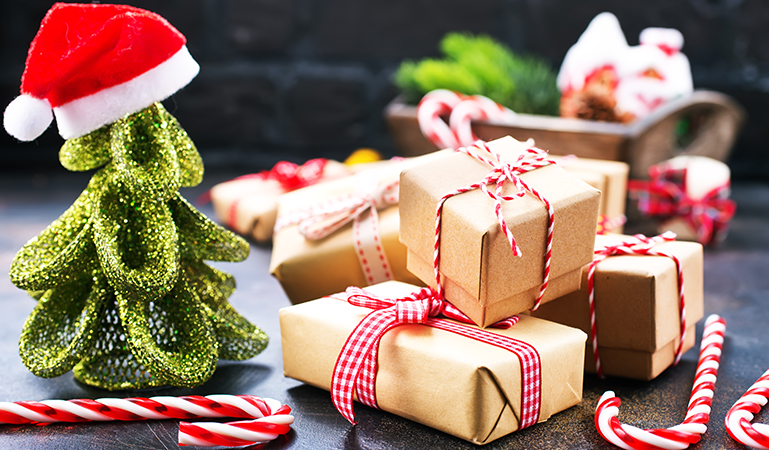 Stockings, crackers, turkey, Santa, baubles... Yes, if you aren't already, it's time to get into the Christmas spirt. Christmas events are a great opportunity to reward employees, thank suppliers and cement relationships with clients for the year ahead.

No matter the purpose of your event, find out how to make it one that's a resounding success that has your guests jingling all the way home:
Summer Planning for Winter Fun



As with all events, beginning your Christmas event planning process as early as possible can help put you in advantageous position. It's never easy to think about the festive period in the glorious sunshine of summer but doing so means you are more likely to get your chosen venue on the dates you need and to secure other elements such as accommodation, catering, transport and, if required, entertainment.

Getting a date in the diary for your event will also give your guests ample time to get it scheduled into their diaries – Christmas is a busy social time, so getting your date locked in is a must.


Money, money, money



Your Christmas event may be a do for your internal staff, a party for clients and suppliers or a mixture of both. Whatever the reason of your Christmas bash, make sure you have carefully considered the budget that you have available to make it the fabulous event you envision.

With a realistic budget allocated, you can focus your venue search on viable options and determine what packages are out there that suit your purse strings. It's always worth spending time on the financial element of your event planning, as it will help set the agenda and the parameters of the kind of event you can hold successfully.


Finding the perfect venue match



Black-tie dinners, themed fancy dress or a weekend away, there are a myriad of Christmas event options and a multitude of venues that can help host your perfect business Christmas outing. When choosing a venue, the usual practical advice applies as it would to any other corporate event. Think about:


Prices - find out the cost and what's included from the venue as part of that cost; this will help avoid any financial surprises that you may not have accounted for.


Size- can the venue accommodate your guest numbers comfortably?


The geographical location – your venue should be in a good location that is easily accessible to guests. If it's not, try to take the steps required to ensure the chosen location doesn't put them off attending.


Is there taxi or other good public transport links? – When guests are merry, getting home should be as simple and as problem free as possible.


Accommodation – if needed, does the venue offer rooms? Can they supply enough rooms for your party and if not are there hotels or alternative places to stay close by?


Catering – Food plays a huge part at Christmas time and can add to the overall experience of guests - so getting it right is essential…


Festive food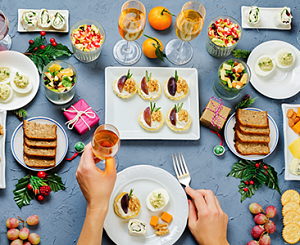 First things first, find out if your chosen venue has in-house catering available, if they don't then you may have to bring in external services, which can impact on your budget if you haven't factored in this eventuality already.
Of course, the kind of catering you need will be dependent on the kind of event that you have planned. Whether you're having a sit-down meal or a buffet, it's important to have a menu that offers delicious options that cater for the different dietary requirements that your group may have.
When ordering a buffet spread ensure that there is enough food to go around– there's nothing more disappointing than patiently queuing, only to find the remnants left behind by those who got in before you.
Timing is everything when it comes to the serving of your event food. Avoid hangry guests and let them know in advance when and what food will be served to them throughout the event.
Tip:
A tasty way to quality check your menu is to arrange a taste testing with your venue or caterers of choice. Most venues and caterers will welcome the opportunity to showcase their taste-tingling food.
Unwrap something special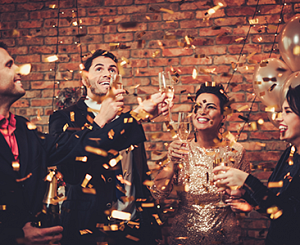 Make your event one to remember for all the right reasons. Entertainment for a Christmas party is like having gravy on turkey – they go together. With DJs, magicians, aerial performers and personal appearances from Santa Clause himself, there are so many entertaining options available to help enhance your event. What you choose is down to you, your budget and the tone you are trying to strike.
Tip:
When speaking to venues, ask if and what entertainment will be included as part of their package cost. If you are just hiring a venue and there is no entertainment included, then make sure you have enough budget set aside for this crucial element.
Many venues that offer Christmas parties will have a predetermined theme and will take care of dressing the venue space. However, some venues may leave it to you to handle the décor side of things yourself…so pick a theme and decorate accordingly to create the right ambience.
If budget allows, consider the little details that you can add to make this the best Christmas event yet. Think: arrival drinks, professional photography, table gifts and the list goes on.
Tip:
From the invite through to the event itself, spread the Christmas cheer and build up momentum and excitement – it's a season that comes but once a year, so make it count.
Planning your corporate Christmas event can be a challenging task, especially if you're trying to organise it in and around your existing workload. A venue finding service can help reduce stress and source a venue that is just right for your event. Leave the leg-work to the experts; using their knowledge of the Christmas event scene, they can take your brief and manage all aspects of your venue find, including: sourcing, site visits, negotiations, booking and even menu taste testing.
If you've left your Christmas event plans to the last minute then don't panic, it's not too late to get the venue for your event wrapped up. Don't wait another moment and speak to Clearcut Venues to find out how we can help with your venue needs this Yuille-tide season.
Call: 07792 125 144 or email

[email protected]